Nun kommen wir endlich zum interessanten Teil, wir installieren und konfigurieren nun das Boblight Plugin (boblightd und boblight-enigma2) auf einer Dreambox.
Artikelserie
SEDU Ambilight – Artikelserie – Einleitung, Aufbau und Allgemeines
SEDU Ambilight – SEDU-Board mit SEDUsetup konfigurieren
SEDU Ambilight – boblight.conf mit BoblightConfigTool für boblightd erzeugen
SEDU Ambilight – Dreambox – Boblight Plugin installieren und konfigurieren
SEDU Ambilight – HTPC – boblight-X11 mit dem boblightd Dienst der Dreambox verbinden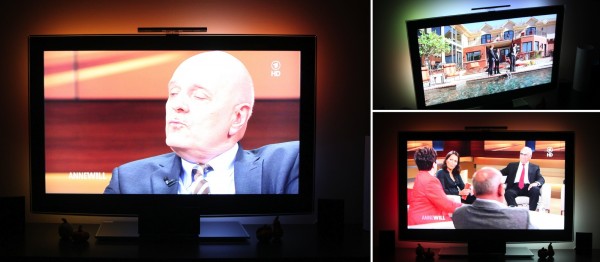 Boblight Plugin für Dreambox, VU+ und Xtrend ET herunterladen
Zuerst müssen wir uns das Boblight Plugin herunterladen. Das macht man am Besten im IHAD-Forum – dort gibt es einen Support-Thread.
Für Enigma2-Images, die noch nicht auf OE 2.0 (OpenEmbedded) basieren, wie zum Beispiel NewNigma2 Version 3 (OE 1.6), nimmt man enigma2-plugin-extensions-boblight-enigma2_*_mipsel.ipk. Für Images, die bereits auf OE 2.0 basieren, nimmt man enigma2-plugin-extensions-boblight-enigma2_*_mips32el.ipk.
Da ich hier eine Dreambox 800 HD SE mit NewNigma2 verwende, werde ich die restliche HowTo mit dem *mipsel.ipk Paket erklären – bei *mips32el.ipk sollte es aber keinen großen Unterschied geben.
Boblight Plugin installieren
Nun muss das IPK-Installationpaket auf die Dreambox übertragen werden. Ob ihr das über FTP oder einen USB-Stick tut ist jedem selbst überlassen.
Jetzt verbinden wir uns per Telnet oder SSH auf die Dreambox, wechseln mit cd in das Verzeichnis, in dem ihr das IPK-File abgelegt habt und installieren mit opkg das Paket auf unsere Dreambox.
opkg

install

enigma2

-

plugin

-

extensions

-

boblight

-

enigma2_0

.

5r6_mipsel.ipk
Nach der Installation führen wir noch, wie im ersten Beitrag des Support-Threads beschrieben, die boblight-dev.sh aus.
Soweit so gut, wenn ihr nun versuchen würdet, (Newnigma2 v3.3.2) boblightd und boblight-enigma2 mit /etc/init.d/boblight-control start zustarten, bekommt ihr folgende Fehlermeldung:
error

while

loading

shared

libraries

:

libpng15

.so

.

15

:

cannot

open

shared

object

file

:

No

such

file

or

directory
Auch das Installieren des im Support-Threads bereitgestellten IPK-Paketes für libpng15 (libpng15-15_1.5.5-r3.1_mipsel.ipk) wäre nicht von Erfolg gekrönt:
root

@

dm800se

:

~

# opkg install /hdd/backup/libpng15-15_1.5.5-r3.1_mipsel.ipk

Installing

libpng15

-

15

(

1.5.5

-

r3

.

1

)

to

flash

.

.

.

*

ERROR

:

Cannot

satisfy

the

following

dependencies

for

libpng15

-

15

:

*

Cannot

find

package

libpng15

-

15.
Daher holen wir uns die benötigte libpng15.so.15 Bibliothek einfach aus meiner Dropbox, vorher wechseln wir aber in das Verzeichnis der Dreambox (SSH- oder Telnet-Verbindung), wo die Bibliothek auch hingehört.
wget

loggn

.de

/

dls

/

libpng15

.so

.

15.5.0

ln

-

s

libpng15

.so

.

15.5.0

libpng15

.so

.

15
Jetzt müssen wir die boblight.conf, welche wir im vorigen Artikel erzeugt haben, noch in das Verzeichnis /etc/ kopieren. Ich übertrage alle Dateien, die ich installieren oder irgendwo hinkopieren will, immer zuerst per FTP in ein Backup-Verzeichnis und kopiere die Datei dann in den richtigen Ordner – wer weiß, wofür man es mal gebrauchen kann. Ihr könnt die Datei natürlich auch einfach per FTP-Client nach /etc/ auf euere Dreambox kopieren.
cp

/

hdd

/

backup

/

boblight

.conf

/

etc

/

boblight

.conf
Nun starten wir am Besten die komplette Dreambox neu – entweder über die GUI oder über die Shell.
Boblight Plugin konfigurieren
Wenn die Dreambox neugestartet ist, sollte eigentlich das Ambilight schon leuchten. Wenn nicht, dann versetzt die Dreambox nochmal kurz in den Standby und macht sie dann wieder an.
Nun gehen wir ins Hauptmenü > Erweiterungen und wählen dort Boblight.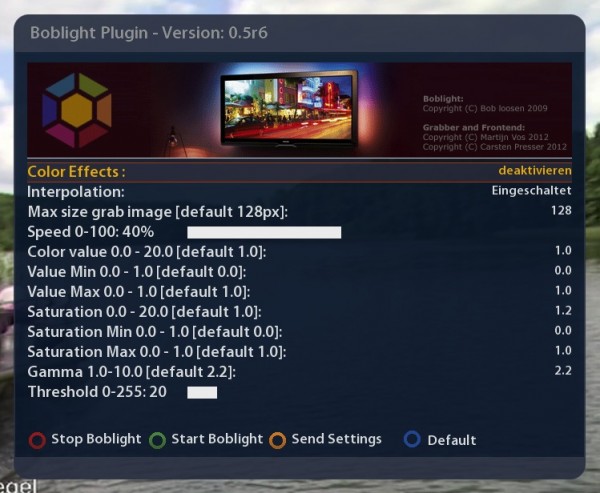 Im Screenshot seht ihr meine Einstellungen, hier seht ihr auch den standardmäßigen Gammawert von 2.2 – so wie ich es euch im letzten Artikel erklärt habe.
Am Besten übernehmt ihr die Einstellungen von meinem Screenshot und drückt auf den gelben Knopf euer Fernbedienung (Send Settings).

Hier könnt ihr übrigens bei Color Effects das Ambilight in einer festen Farbe leuchten lassen oder den Regenbogen-Effekt bestaunen.
Sollte euer Ambilight immer noch nicht leuchten, dann könnt ihr es mit Stop Boblight und Start Boblight versuchen. Wenn sich immer noch nichts tut, dann geht per Telnet oder SSH auf die Dreambox und führt den Befehl …
/

etc

/

init

.d

/

boblight

-

control

start
… aus. Die Fehlermeldung, die ihr erhalten werdet, könnt ihr in den Kommentaren posten, ich versuche euch dann zu helfen. 😉